As our Spring Campaign draws to a close, we've wanted to make sure anyone visiting our website gets a chance to read it and participate. This letter went out by snail mail to many of our supporters and friends in May. Some of you may have also received a copy of it by email. We thought we'd also put a copy here so that everyone who wants to can participate in this campaign.
---
Greetings from Beautiful Day! I'm so glad to be in touch and hope that you and your loved ones are safe and well. Normally you would find our annual report in this letter as we kick off our Spring Fundraising Campaign. But these are not normal times and we have decided to post the report on our website instead. Please check it out here. It is full of interesting facts and celebrates a year of accomplishments and growth that supporters like you helped us to achieve.

As we look back on a successful year, we also recognize that many things have changed since then. The questions we have asked ourselves in the past two months would have been unheard of in 2019. How do you rent a kitchen in the middle of a pandemic? An unthinkable question that suddenly became extremely relevant when we lost our kitchen due to covid concerns and had to find a new one quickly. With the help of supporters like you, we found one after three weeks.

How do you keep kitchen trainees employed when you don't have a kitchen? Another previously unthinkable question. But while we were looking for new space, we were determined to retain all our staff because we knew how layoffs could force many to the brink of homelessness. With the help of supporters like you, we were able to keep everyone on our payroll.

How do you adjust quickly to a totally new space? We never expected the answer to be so full of twists and turns. But a dumpster fire on our first day damaged the building and further delayed production. And we made some cooking mistakes as we adjusted to unfamiliar equipment. And thermometers, masks and social distancing added new layers of complexity to the process. But once again, with the help of supporters like you, we were able to replenish our inventory and continue to offer all the delicious flavors you've come to know and love. We're back!
I'm sure you are also facing challenges during this time that would have been unheard of a few months ago. But the story of our recent struggles and successes shows that there is always hope, even in the face of uncertainty and setbacks. That's why we have named our annual report "Hope over Fear." In fact, you have been a huge source of hope for us during the past few months. Your gifts, your purchases and your messages of encouragement have kept us going through the darkest times.

I want to thank you for all that you have done for us and to ask for your continued support to help us stay strong for refugees in the coming months. We have made it this far because of the kindness and commitment of supporters like you. We will go the distance because of you as well.

Your gift will help people like Iman who is a vital member of our kitchen staff. Iman herded camels in Somalia and received no formal education, but he has memorized every recipe and can find creative solutions to almost every problem. Not only does he support a disabled nephew who lives with him, but he also supports two daughters back in Somalia who were not allowed to accompany him to the US. In the kitchen, Iman keeps everyone's spirits up with songs and laughter. But he knows what's at stake if he loses his job.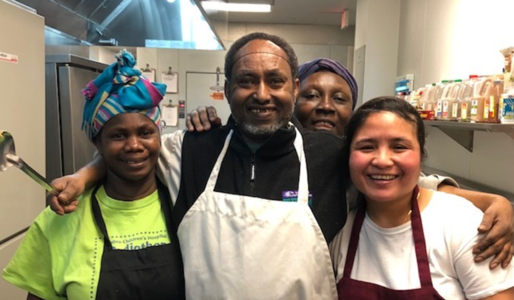 This virus has turned the world on its head, but with your help, we will not let it stop us. Too many people like Iman rely on us for jobs and training and vital services. We must stay flexible and innovative in order to respond to changing needs. Your gift will allow us to expand and shift our programming so we can serve even more refugees, especially those who have lost their jobs and need retraining. We know that times are tough, but the need is greater than ever before. A donation of any amount is appreciated.

Please give online here or you can mail to Beautiful Day at 10 Davol Square, Unit 100, Providence, RI 02903. We thank you again for your continued support and encouragement. Here's to hope over fear!

With gratitude,

Rebecca Garland
Director of Strategic Partnerships

P.S. Our board is matching new and increased giving during this Spring Campaign – up to at least $6,000, maybe more. If you've never donated before, your entire gift will be doubled. And if you gave last year, our board will match any increase you make. For example, if you gave $100 in 2019 but increase it to $150 this year, the total value of your gift will be $200.

P.P.S. To encourage monthly giving, our board will donate an extra $250 for each new recurring gift or #TeamGranola membership. For example, if you pledge a $10 monthly gift, we will get $260 for the first month. Wow! You can visit here to subscribe.